Victoria's relentless population growth coupled with a likely cut to interest rates could provide some positive stimulus to Melbourne's residential market and potentially see a turn of momentum after prices retreated over 10.9 per cent from their late-2017 peak.
Sales of new apartments have suffered over the first quarter of the year, amid weak housing market sentiment and tight credit conditions.
Alongside the continued downtrend in sales, launches of new apartment projects have also slumped sharply in the first quarter of the year, compared with a year ago.
JLL cut its total expected apartment completions this calendar year to 5,500 from the 6,250 it was expecting three months ago in its last report.
Melbourne, the lone east coast capital where new apartment construction is up on last year, saw a 51 per cent decline in new units being marketed.
In order to counteract the current slide, the city's apartment developments are now moving away from mass construction in a bid to lure back increasingly selective buyers.
Speaking at this year's residential property summit held by The Urban Developer in Docklands on Friday, local property experts discussed the current state of buyer demand and strategies to elevate product, meet the market and unearth new opportunities.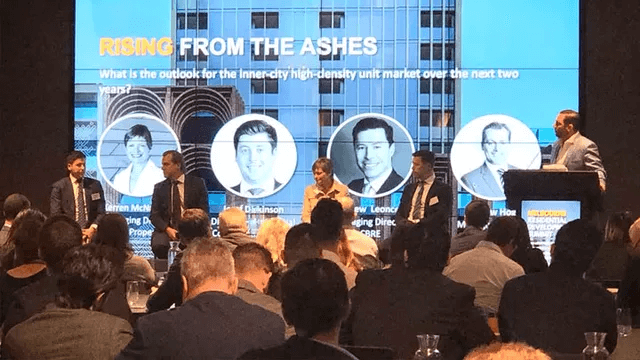 ▲ Colliers International director Jozef Dickinson, Point Polaris managing director Andrew Hogan, KIN Property managing director Kerren McNamara, CBRE managing director Andrew Leoncelli and The Urban Developer founder Adam Di Marco. Image: Corey Timms
Victoria, on par with NSW as the nation's top economy, is still suffering through a softening property market with many analysts expecting the city to bottom out next year.
In an attempt to stabilise the market, the Australian Prudential Regulation Authority proposed on Tuesday that banks should change the way they assess customers' ability to meet their mortgage repayments in a move that would let people borrow more.
Other factors contributing to a recovery will potentially lie with the government's election promise of first-home buyer support and the rejection of Labor's proposed negative gearing changes.
As a consequence, developers are now thinking differently about the current market, in terms of both what they are building and why.
"Gone are the days of high density permits and going to China for investment," CBRE managing director Andrew Leoncelli said.
"We're advising clients to look at medium-density and low-density developments as well as boutique developments in locations where the local market is strong for that product."
Developers finding opportunity in the current climate were found to be moving away from large construction projects and towards more specialised boutique offerings targeting owner-occupiers.
"Anywhere where the houses are very expensive, there is great public transport, retail amenity and lifestyle amenity," Hogan said.
"If you get those four factors right at the beginning, you could be looking at a good result."
Melbourne has also witnessed an upswing in boutique hotel developments as well as investment in student accomodation with Victoria accounting for almost one-third of Australia's 565,000-strong overseas student population.
The recent flurry in developer activity indicates a rapid catch up to unmet demand for student accommodation in recent years, given the strong and sustained growth of the sector.
"Different conditions create different opportunities for different markets. That's what we are seeing now. I don't think it is a negative that some of these projects aren't going up," Point Polaris managing director Andrew Hogan said.
"If you look at some of the significant commercial developments that have come off the back of this, 555 Collins, Mirvac picking up Sterling Global's site, La Trobe Street, 85 Spring Street, I don't think these are bad signs for the residential market I think they are just opportunistic."
"I don't think it is a negative on the residential front, I think the availability of sites is very difficult and when they do come up the right use will find them."
Related: How These Developers Are Navigating Market Headwinds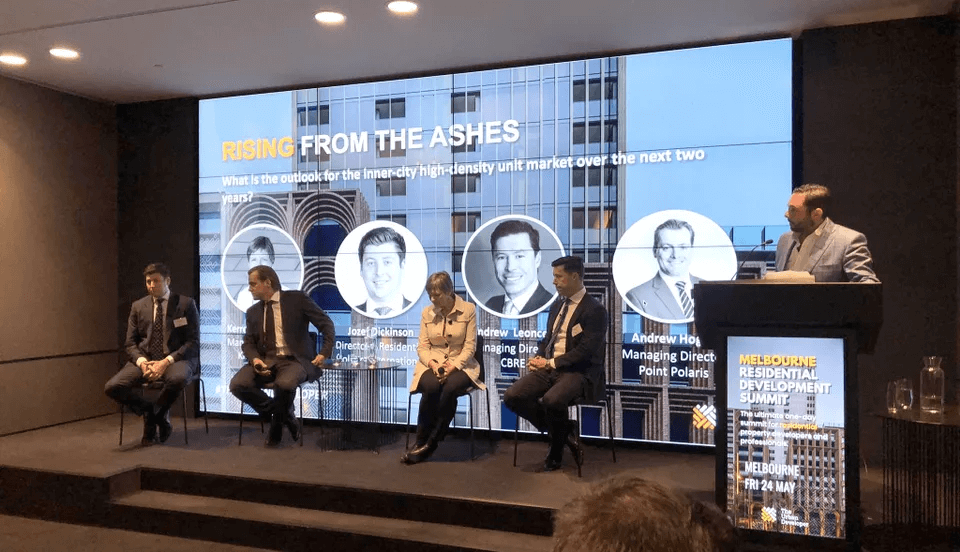 ▲ Panelists agreed that developers vying to stay ahead of the curve are now heavily consumer-focused, repositioning their brand offerings to meet the market. Image: Colliers International
According to Domain, Melbourne's median unit prices have fallen overall over the past year by 2.9 per cent to $466,892.
While this might be the case, there have been opportunities for investors finding emerging and established suburbs where medians have risen by as much as 11 per cent over the past year.
"With the projects we are managing in the inner-ring settlements have been very strong and valuations are stacking up," KIN Property managing director Kerren McNamara said.
"It does come down to the location, how it was sold, and the rate that it was sold at but there is real strength there."
"Buyers are focused on quality. I think there needs to be a movement away from reaching settlement time and purchasers needing to come in and defect."
Developers vying to stay ahead of the curve are now heavily consumer-focused, repositioning their brand offerings to meet the market.
"New builds should feel more like a presentation than a defecting process, these small things can really make a big difference and help build advocacy with buyers for your brand," McNamara said.
Moving forward, analysts believe that Melbourne's rental market may tighten due to investors leaving the market, creating an opening for would-be investors.
"At the moment there is such a strong rental growth proposition and that is the way we are attracting investment buyers back in," Colliers International director Jozef Dickinson said.
"They see the value in rentals at the moment and we reckon that it's only going to get stronger."
"The supply forecast in the CBD come 2023 is almost non-existent and rents are already on the way up."
Amid the downturn in sentiment, buyers are still showing an appetite for the convenience and low-maintenance lifestyle of modern apartment living in Melbourne.
Purchasers are now demanding more from their building's amenity and lifestyle offering, in search of concierge services, recreational facilities and open areas.
Developers taking the "less is more" approach with a focus on luxury and boutique developments are now unearthing opportunity in the nation's fastest-growing capital city, with estimates that it will overtake Sydney to be Australia's largest city by 2026.
"Momentum is something that takes time," Leoncelli said. "We're pushing developers into more suburban locations where there is an active local buyer, three-bedroom opportunities, downsizers and first home buyers now with government assistance to create better developments to meet the market."