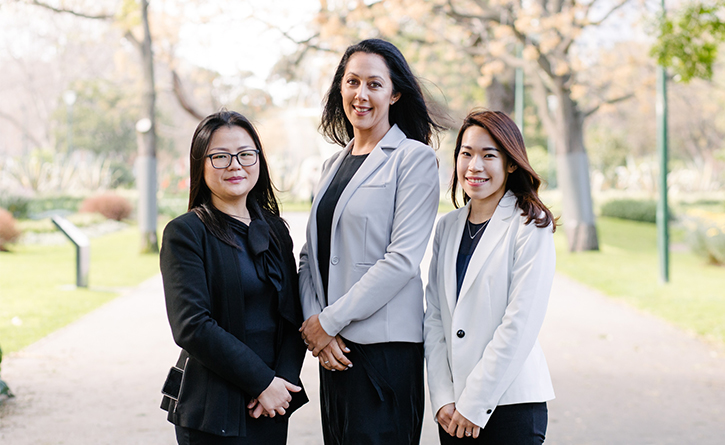 KIN Establishes a NSW Office
KIN is extremely proud to announce the opening of a Sydney based office, with dedicated and professional full-time staff.
The KIN team offers excellence in boutique settlement services.  We care about your customers and act to educate and empower them to settle in full and on time.  We have far-reaching financial networks and a dedicated Asian language team based in Sydney, so you can rest assured that your clients both locally and internationally are cared for.  KIN has long been a premier off-the-plan property settlement agency and having worked on some of the countries biggest and most complex projects, our mark has been made in Australia's property market renowned for unprecedented service and market knowledge.
In the past year, KIN has worked on several large-scale residential projects in Sydney including Ryde Garden and York & George.  However, as in other states, our specialty extends to boutique high-end apartments and mid-size developments, we have previously worked on Pacific Bondi, Aqua Bondi and The Alex in Sydney, so you can rest assured that no matter the size of the project, we will always deliver our quality customer service and great results.
KIN has a large team, with a focus on service excellence and experienced settlement coordinators and project managers. We have the resources to be able to service your development and ensure that each and every purchaser is engaged and led down the right path to a successful settlement.
Meet some of the Sydney team and head here to see the rest of the KIN staff:
Tanya Sassoon: Tanya is NSW born and bred and has lived in the capital all her life, so she knows the Sydney market well.  She has a long history working in property and previous to joining KIN co-owned Belle Property Double Bay.  She is well versed in both settlements of off-the-plan properties and property management.  At KIN she has taken up the position of State Manager & OIEC, this will see her manage current clients, create new business and generally oversee the Sydney based KIN team.  When Tanya isn't at work she loves to travel, visit wineries and spend time with family.
Eeshan Ng: Eeshan has had extensive experience managing contract exchanges and settlement pipelines, she has been with KIN since the beginning of 2018 and has led the team working on Ryde Garden.  Eeshan is also Mandarin literate, meaning she is perfectly placed to assist with many Asian purchasers.  Outside of work you will find Eeshan discovering new cafés, checking out the latest fashion or exploring the city.
Allie Chong: Allie is part of our NSW Asian Language Team and speaks Mandarin and Cantonese, this coupled with her extensive experience in the property market makes her the perfect person to be dealing with foreign buyers. When she is not working Allie enjoys spending valuable time with her family, attending her kid's soccer matches and playing badminton.
If you think KIN can help your company achieve settlement success, get in contact here!