It's no secret, the Melbourne property market is entering a turbulent period, below we share with you some of our key findings in the area of valuations and nominations in 2018.
We looked at our projects based in four suburbs, Melbourne, West Melbourne, South Yarra and Southbank for the first six months of 2018 and saw that 70% of all purchasers in these suburbs had their apartment valued lower than their purchase price. These purchasers are a settlement risk for developers and it's our job to find out who they are and solve the problems they face. The key to doing this is making contact with all purchasers early, usually nine months to a year out from settlement. Our trained staff carefully profile each purchaser, we use a customer-centric focus to educate and empower the purchaser, this way they know what their next steps are in the settlement process.
KIN have data from areas all of greater Melbourne, our professional project managers are able to see if a certain development will likely have apartments undervalued at the end of a project.  This forward-thinking approach and knowledge about each purchaser allows KIN to be prepared for problems closer to settlement. We have access to many alternate finance options for purchasers, we know who are lending and how much and are able to connect the purchaser with the financier. If the purchaser is unable to source finance, or is now unable to settle for whatever reason, KIN put them in contact with specialist nomination services. We found that up to 40% of purchasers were needing to source a nomination for their apartment. Knowing early about purchaser finance and risk is crucial to achieving great settlement results.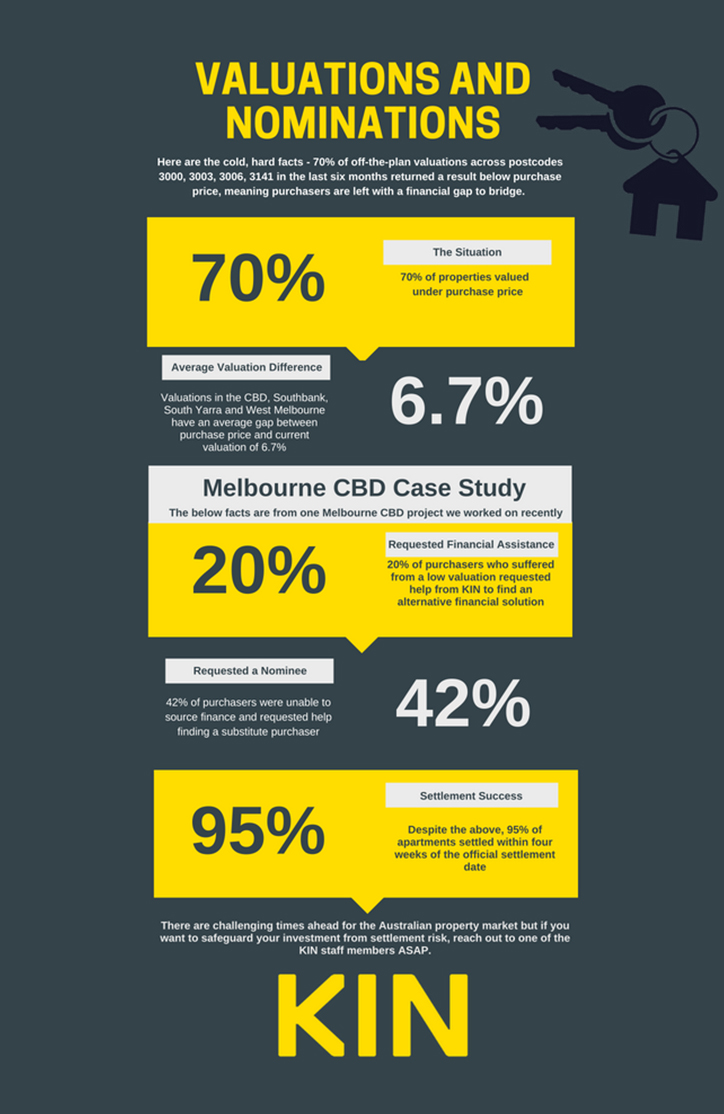 Even though the figures are daunting, it's still possible to achieve a great settlement result. KIN continue to be a market leader in the area of settlements in 2018, several projects have settled at nearly 100% and on time in 2018 including Royal Como in South Yarra, The Mill in Newport and Avenir in Hawthorn East. We continue to strive for excellence and offer our clients a standard of service that is unrivaled in the property industry, click here to see what some of our clients have to say.
If you think that KIN could help your company achieve a great settlement result, contact us through this link.